Workers are in DIFFERENT situations please read until the end of this page and watch for updates. The situation is changing daily.
Latest 27 /3/2020:The Spanish Government has prohibited dismissals as a result of Covid19 and has approved a simplification process for the ERTE process (temporary suspension of contracts) "Maintaining jobs is the priority. If it is possible to join an ERTE scheme, dismissals are now illegal"  Translation of full Press release here *  Link to published amendment to the law here (Spanish) 
** Link to interpretation of the implementation of this law and the effects to those already dismissed in the last 2 weeks from Molina Solicitors (English) Here
** NEW EMPLOYMENT MEASURES TO COMBAT EFFECTS OF COVID 19
·· To stop dismissals for reasons relating to Covid 19
·· To make applying for unemployment benefits easier
·· Strengthen control measures available to Work Inspectors to stop fraud
·· Temporary contracts will be extended until the end of the health crisis
·· Neither Public nor private health centers or Centers for the elderly may be closed
·· Facilities for co-operative societies
·· Measures to make contracting by public bodies easier
RENEWAL OF EXISTING EMPLOYMENT DEMAND (Signing on)
The Canary Employment Service will automatically renew all job seeker applications that are in a discharge or suspension situation of as of March 16, 2020 (not those with an earlier date that would have already caused termination due to non-renewal that would comply with section 2) at least , for the duration of the State of Emergency. Therefore, no person registered as a job seeker should go to an Employment Office, access the SCE website or call 012 for this purpose during that period, since the resources of this telephone service are attending to priorities re the health emergency.
UNEMPLOYED BECAUSE OF THE COVID 19 CRISIS
If you have been told you are the subject of an ERTE (a TEMPORARY suspension of your contract) YOU DO NOT NEED TO DO ANYTHING YOUR EMPLOYER WILL DEAL WITH EVERYTHING INCLUDING YOUR CLAIM ** DO NOT CONTACT THE SEPE OFFICE**
UNEMPLOYED FOR REASONS OTHER THAN ERTE *NEW 25/3/20*
This is an on-line pre-claim form you can use to make your application, a functionary will then ring you back This form is for NON ERTE applicants for unemployment benefits https://sede.sepe.gob.es/contenidosSede/generico.do?pagina=/contenidos/sede_virtual/sv00A1.html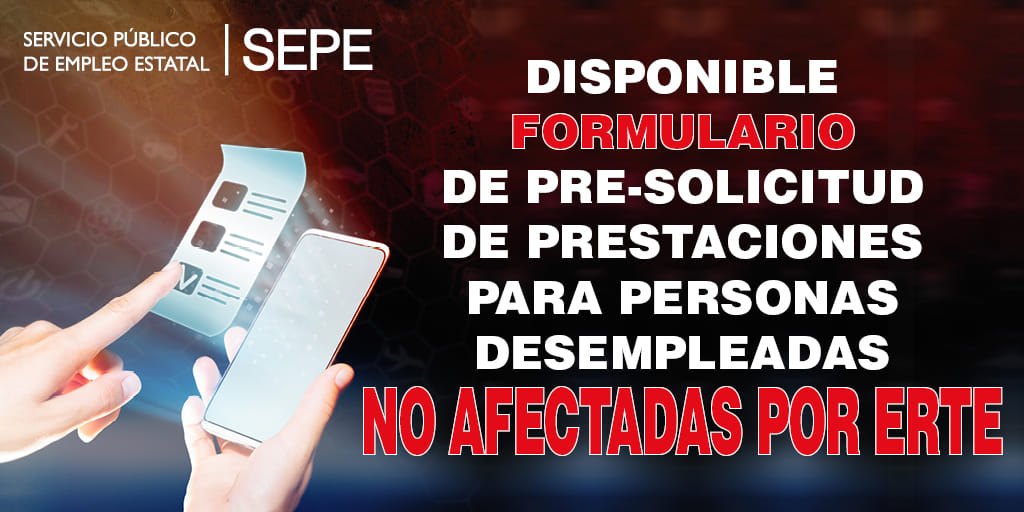 Once you have sent the online form you will get a receipt like this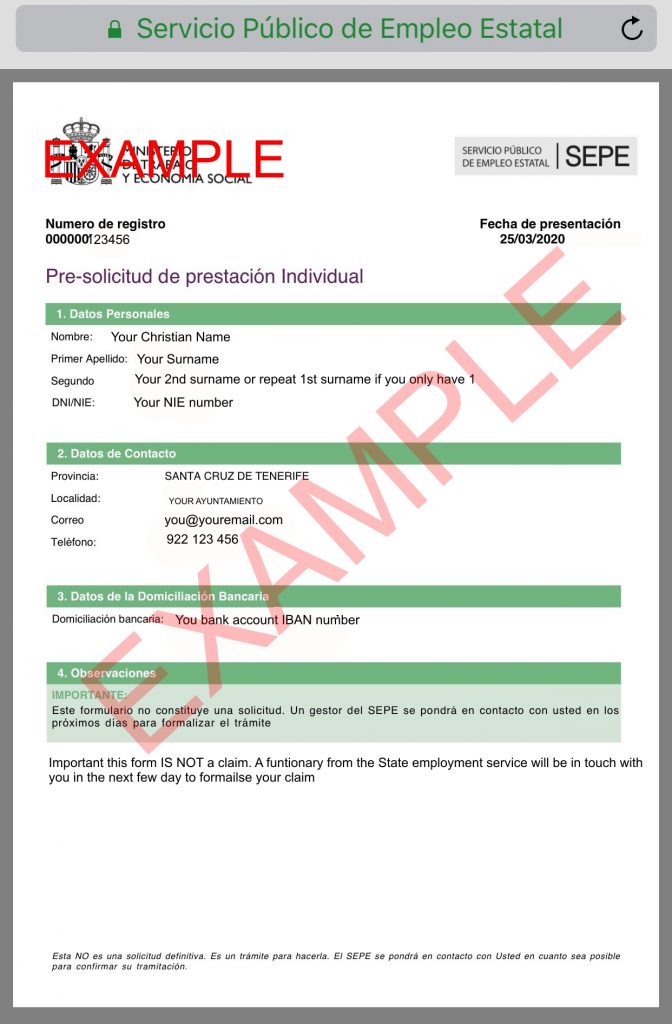 If you have any other kind of query about your dismissal or ending of contract NOT COVERED ABOVE then read on
If you are not sure about your benefit claim or have another query you can also make a virtual appointment with the Spanish state employment agency using the form here https://sede.sepe.gob.es/contenidosSede/generico.do?pagina=proce_ciudadanos/cita_previa.html Include your email and they will contact you. Screen shot with translation here
IMPORTANT: DO NOT TURN UP AT THE OFFICE ON THE DAY OF YOUR GIVEN APPOINTMENT , SEPE FUNCTIONARIES WILL GET IN TOUCH WITH YOU AS SOON AS POSSIBLE YOU MUST INCLUDE YOUR EMAIL WHEN REQUESTING THE APPOINTMENT
Newly published (23/3/20) are 2 new helpline numbers for SEPE (State employment service)
*NEW SEPE HELP LINE NUMBERS
Citizens: 900 81 24 00
Companies: 900 81 24 01

Source
There is also help from your Local Ayuntamiento Google their website for more information
REGISTRATION AS A JOB APPLICANT:
This information is for the Canary Islands –
HELP LINE TO REGISTER AS JOB SEEKER 922 924 070 8H- 15H
The State Public Employment Service (SEPE) and the Canary Employment Service, in a coordinated manner, will manage both the application for benefits submitted virtually by you to SEPE (see link to pre-application form above )and your registration as a claimant. In exceptional circumstance IF YOU ARE ASKED BY SEPE to register as a job seeker in the Canary Islands see 2.1 and 2.2 below
2.1.If you have a Digital Certificate or a Permanent "Clave" Code, you can register through the SCE website by accessing the "Quick Self-management of registration and modification of demand" service at this link http://www3.gobiernodecanarias.org/empleo/portal/web/sce/sede_electronica/desempleados/demanda_empleo/autogestion_rapida.
If you are not registered as a job seeker, but apply for unemployment benefit (discharge or resumption) as of March 16, 2020, you will not normally need to manage this registration or make an appointment to do so.
2.2. If you do not have a Digital Certificate or Permanent Code, you can obtain an appointment for said registration by calling the phone number of your Specific Employment Office by accessing the Employment Office search engine on the SCE website, at this link. https://www3.gobiernodecanarias.org/empleo/portal/web/sce/servicios/buscador_oficinas_empleo_y_recursos
They will call and answer you on the day and time assigned for that appointment.
3. SERVICES FOR PERSONS ALREADY REGISTERED: The services that this Canary Employment Agency provides to those registered as jobseekers are available, identifying themselves with a Digital Certificate, Permanent Code or DARDE Code, on the SCE website, by accessing this link. https://www3.gobiernodecanarias.org/empleo/portal/web/sce/servicios/desempleados
YOU DO NOT NEED TO RENEW YOUR APPLICATION (Sign On) SEE ABOVE
Due to the necessary prioritization of basic and essential services to citizens during this exceptional period, this will be the only way enabled for people already registered in the SCE, no appointment being provided for it.
source of translation: https://www3.gobiernodecanarias.org/empleo/portal/web/sce/noticias/contenidos_noticias_Canales%20durante%20estado%20de%20alarma?fbclid=IwAR2fTpb_-UyRHygTtNaWvY8KjC7NmxAIdgJ-sDYlDnSGR7TlTUXLiKb9kfg
If you are the subject of an ERTE ( a temporary lay off) YOU DO NOT NEED TO DO ANYTHING YOUR EMPLOYER WILL DEAL WITH EVERYTHING INCLUDING YOUR CLAIM DO NOT CONTACT THE SEPE OFFICE
Information for employers presenting ERTEs http://www.mitramiss.gob.es/ficheros/ministerio/contacto_ministerio/FAQ_ERTES_derivados_coronavirus.pdf
COMPULSORY PAID LEAVE FROM 30/3/20 – 9/04/20 INCLUSIVE *NEW 30/03/20
The Spanish Council of Ministers has approved a #PermisoRetribuidoRecuperable for non essential category of workers
It will be compulsory for these workers to stay at home from the 30 March until the 9 April 2020,both dates inclusive.
President Sanchez has explained: "The idea is that a worker who works on a construction site, from March 30, will not do so, but will be paid for that compulsory leave. On the other hand, a nurse will be working during that time", When asked if the lost hours of work would be worked when this exceptional situation has ended, Sánchez answered yes, "when the health emergency ends" he explained, "workers must "pay back" to the employer the hours of work they did not provide, but were paid for, this is to be done gradually over time" said the president.
It is like having having two weeks of paid holiday, but you must gradually return the time taken off to companies you work for.
The amended law allows for compulsory paid leave to be " paid back" to the employer up until the 31/12/20 on a schedule to be negotiated between the parties.
Employees whose contracts have been temporarily suspended (ERTES), those on temporary incapacity benefit, workers whose contracts have been legitimately terminated for other reasons, workers who are able to work remotely and key workers in exempt categories are excluded.
sources: https://www.lamoncloa.gob.es/…/2…/28032020_noesenciales.aspx
List of essential workers is published here https://www.boe.es/diario_boe/txt.php?id=BOE-A-2020-4166 (text) and https://www.boe.es/boe/dias/2020/03/29/ link to pdf
English translation of essential worker categories courtesy of N332 here: https://www.facebook.com/DrivingSpain/posts/1396354187218596
SOURCE: http://www.sepe.es/SiteSepe/contenidos/personas/prestaciones/pdf/nota_informativa_subsidio_extraordinario.pdf
http://www.sepe.es/HomeSepe/Personas/distributiva-prestaciones/quiero-cobrar-el-paro/afectadoERE.html
NO PHYSICAL APPOINTMENTS: Attention at benefit offices by requesting a SEPE Appointment at https://sede.sepe.gob.es/contenidosSede/generico.do?pagina=proce_ciudadanos/cita_previa.html

During the period of Emergency ,measures, you do not have to go to an Office to renew your application (sign on): your application will remain in force

MEASURES HAVE BEEN ADOPTED FOR PROTECTION OF UNEMPLOYMENT IN RDL 8/2020, OF EXTRAORDINARY MEASURES RE COVID- 19

(They will be in force as long as this situation continues)

Unemployment protection for workers affected by contract suspensions and reductions in working hours, including cooperative worker members, and with specific benefits for discontinuous permanent workers.
Deadlines are suspended regarding the submission of applications: no benefits will be reduced for submitting applications after the deadline.
Extraordinary measures regarding subsidies.
Information available on the Website is being updated